Reunion Tower Launches Fifth Annual New Year's Eve Fireworks Show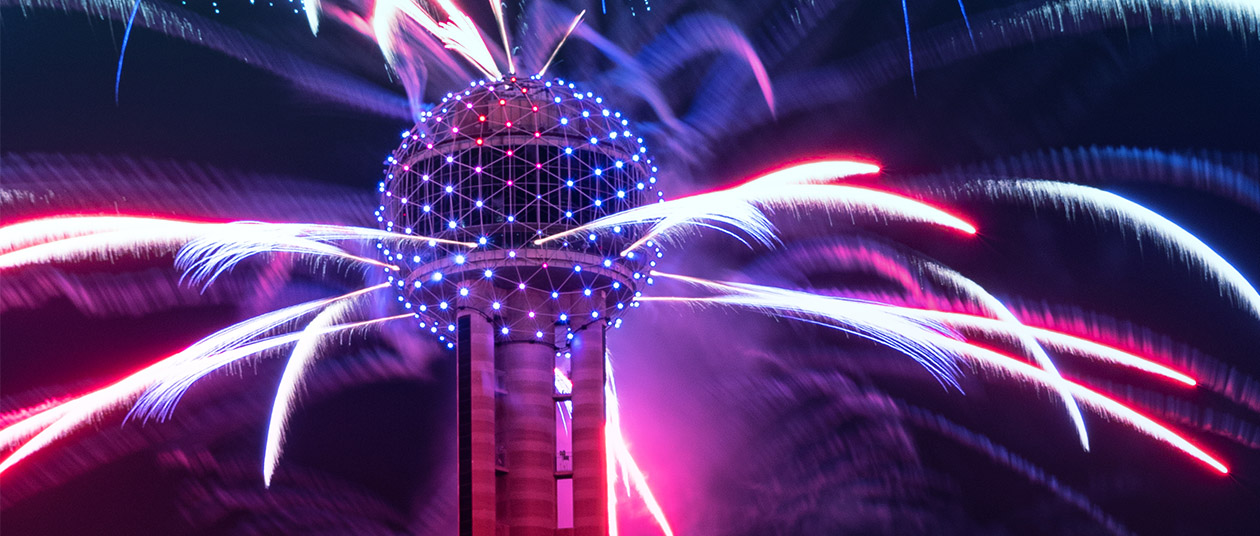 "Reunion Tower Over The Top NYE 2020" To Benefit Children's HealthSM, Launches Reunion Tower's Shine Bright Sweepstakes
DALLAS – Dec. 2, 2020 – Reunion Tower and Hunt Realty Investments, Inc. are collaborating to bring a Texas-sized New Year's Eve event to Dallas for the fifth year in a row. The only 360-degree, panoramic fireworks spectacular in the Central time zone will light up the Dallas sky with more than 4,000 pyrotechnic special effects and 259 LED lights starting at 11:59 p.m. CDT on Tuesday, Dec. 31, 2020.

For the second year, the event will be "Championed by SMU" as a community partner for the event.

This year, the fireworks spectacular will benefit Children's Health via the newly formed Reunion Tower NYE Foundation. The Reunion Tower NYE Foundation was established in 2020 to raise funds to support and showcase a local North Texas non-profit organization. For more than 100 years, Children's Health has served the Dallas community through high-quality patient care, advocacy, education and preventative care. The Foundation has named Children's Health as its 2020 beneficiary because of the outstanding health care heroes who have exemplified Dallas' "can do" spirit during this difficult year. Funds raised from this event will support the vital medical care Children's Health provides to youth, as well as its groundbreaking medical research, and will honor the critical work of local healthcare workers during 2020. To make a donation to support Children's Health, please visit https://reuniontower.com/donate-childrens-health/.

"Children's Health is honored to be the first beneficiary of the Reunion Tower NYE Foundation," said Brent Christopher, President of Children's Medical Center Foundation. "The Reunion Tower Over The Top NYE fireworks show will allow many to ring in the new year, safely, with hope and joy – two values Children's Health continues to bring to our patients each day as we work to make life better for children in North Texas."
Also new this year is the Reunion Tower Shine Bright Sweepstakes. Starting Wednesday, Dec. 2, people can enter to win the Sweepstakes through the hashtag #ShineBright2021 on Facebook, Instagram, and Twitter. Included in the Sweepstakes winners' package will be:
One free night at Hyatt Regency Dallas for a family (up to six people)
Welcome basket with NYE party supplies, desserts, and more
VIP passes to Reunion Tower GeO-Deck
Up to six meal vouchers for NYE dinner and brunch buffets (one/person per meal)
VIP NYE fireworks viewing experience on the Reunion Tower lawn
Winners will be notified individually on social media starting at 5 p.m. on Dec. 21. If winners don't respond within 24 hours, new winners will be selected and notified individually.

"The Reunion Tower fireworks display truly is one-of-a-kind, and we are confident these new elements of the Foundation and Sweepstakes will take the experience even further Over the Top," said Colin Fitzgibbons, President of Hunt Realty Investments.

"Reunion Tower is thrilled to present the fifth annual Over The Top NYE fireworks spectacular and usher in a new year filled with hope and promise," said Dusti Groskreutz, President of Reunion Tower. "We look forward to honoring Children's Health as the first beneficiary of the Reunion Tower NYE Foundation and celebrating all of the hard work of first responders throughout 2020."

Reservations at Hyatt Regency Dallas, conveniently connected to Reunion Tower, are now open. The hotel offers an array of food and beverage offerings, including a New Year's Eve Dinner Buffet with live music until 10 p.m., casual dining at Monduel's with live music until 1 a.m., in-room dining that allows guests to enjoy the fireworks show from a city-view room, and a New Year's Brunch to ring in the New Year on Jan. 1. Guest and team member safety are Hyatt Regency Dallas's top priorities. Following CDC and local health guidelines – social distancing, cleanliness, and hygiene requirements including the use of face coverings – will be strictly enforced throughout Hyatt Regency Dallas.

Only authorized guests of Reunion Tower, Hyatt Regency Dallas, and credentialed media will be permitted to access the media viewing area via Reunion Boulevard and Sports Street. Due to safety requirements and governmental regulations, the Reunion Tower lawn will be closed to the public.

Visit www.reuniontower.com/NYE for the most up-to-date information on partners, ways to watch, and street closures.
Media Contact
Westphall PR
Emily Walsh
847-769-1597
[email protected]
---
Other Blog Posts